First connection
If this is your first connection, you should have received an email containing your login and password and a link to the application. If this is not the case, contact your support service.
Login
To start using IteropPlay, you must have login credentials and have received the URL to connect to the application.
Make sure you have received your login details and the login URL.
Enter your username and password
Click on "Login"


To avoid entering your password at each visit, you can check the box "remember me" to save your login information. Warning, check this box only if you are the only one using this device to prevent someone else from logging into your account.
If you are unable to log in with your credentials, click on the link "Contact Administrator" and send an email to support for assistance.
Reset your password
If you have forgotten your password, you can reset it. You can do this from the page of connection.
Click on the link "I forgot my password" under the button "Login"
An email containing the new password will be sent to the address associated with your IteropPlay account.
Check your emails to get the new password.

Enter the new password on the page login
Change your password
When you are in IteropPlay, you can change your password to personalize it.
Scroll down the menu on the left side of the screen
Click in the "settings" tab at the bottom of the menu
Fill in the form with your current and new password
Click on "save"
A window appears at the bottom right to notify you that your password has been changed.
Log out
To exit IteropPlay, select the "logout" tab at the bottom of the left menu.
Click on "log out"
In the window, select "ok" to log out or "cancel" to return to the application
Delegate your account
You can delegate your account to one or more other users, for example if you are going on holiday. Your employees will then be able to connect to your interface without needing to know your password.
To use the account delegation :
Click in the "settings" tab at the bottom of the menu
In the insert Delegate his account, click on Delegate this account for a period. A window opens :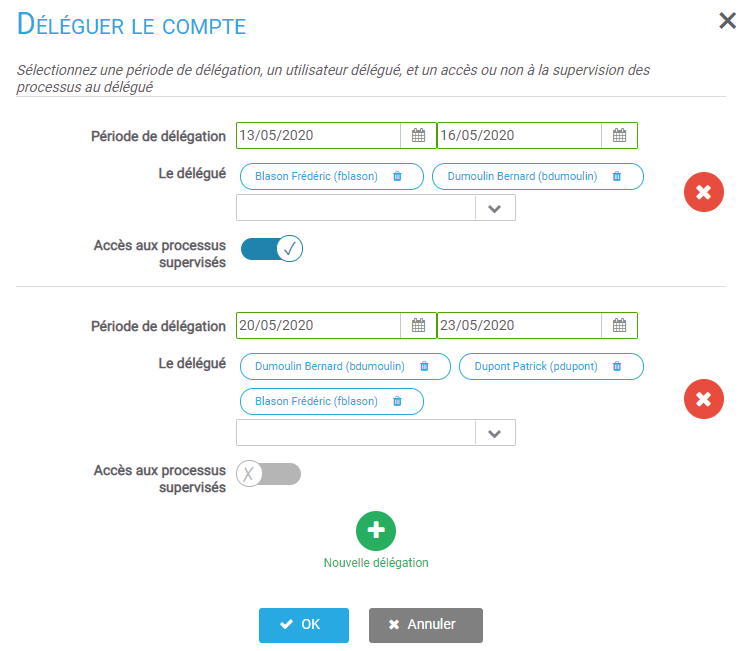 Fill in a period of time during which the account will be delegated.
Select the user(s) in the The delegate. An email will be automatically sent to warn them
If you are a supervisor/controller, you can give or not access to the supervision of your processes
Repeat as many times as necessary by pressing the ( + ) key.
Click on OK
During this period, you will be able to log into your account normally, as well as users designated as delegates. They will then be able to take care of the tasks assigned to you, start the processes to which you have access and supervise the processes if you have given them the rights.
When an account is delegated to you, you will notice it through the :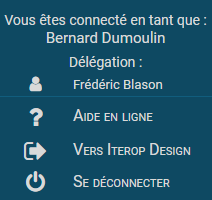 By clicking on the delegated account ("Frédéric Blason" for this example), you will have the following clues to know that you are manipulating another account than your own :