This documentation is intended to help you better understand task assignments.
There are 4 types of possible assignments:
The fixed assignment
Dynamic assignment
Assignment to an outside
Assignment to a PLC
The fixed assignment
The fixed assignment allows you to assign the task to a list of groups and/or users.
To do this, simply select from the drop-down menus the groups and users who are to perform this task.

Dynamic assignment
Dynamic assignment allows you to assign the task dynamically based on input data or the completion of a task.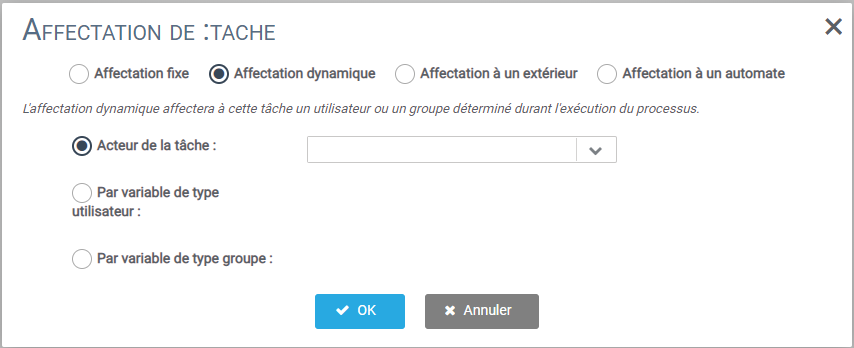 The Actor of the task option : allows you to assign a task according to who has launched or completed another task.

User or group variable option: Allows you to assign the task according to a user or group variable defined upstream in the process.
Here are a few examples:




Assignment to an outside
Assigning to an outsider allows to assign a task to a user not having an Iterop account. This assignment sends the request to complete the task in a customizable e-mail for example, but a fixed URL can also be provided.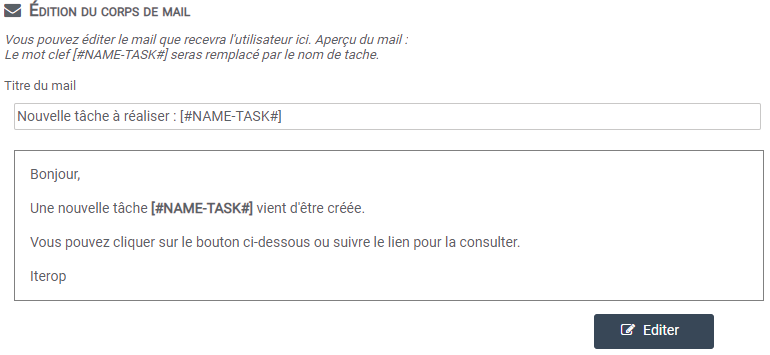 As for dynamic assignments, the external assignment offers 3 possibilities:



Assignment to a PLC
Assignment to a PLC does not really affect the task, it is placed pending execution by an external configuration (PLC, from the monitoring of a controller…).
A task in Automate assignment can be completed or reassigned from the detailstab in Task Tracking.
To do this, go to the tracking interface and select the process. Now click on details and then on the task on hold.
You now have 2 options:
Re-assign the task. 1️⃣
Get the job done. 2️⃣