IteropDesign is the interface reserved for process designers. In general, IteropDesign allows you to model and configure processes, manage users, manage connected services and manage the lifecycle of deployed processes.
In case of a first visit to IteropDesign, here are the first things to do: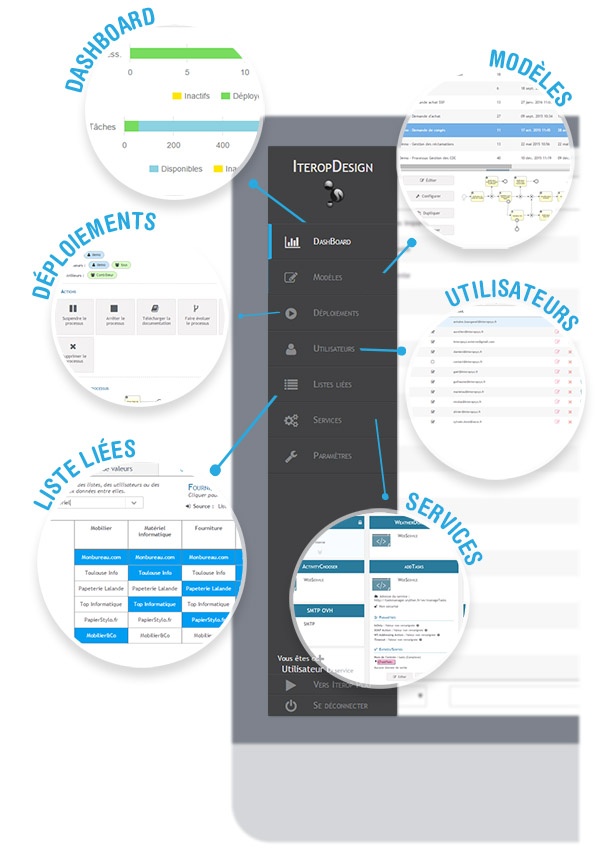 Dashboard
This is the home page of your IteropDesign interface, it summarizes the number of processes and tasks you have deployed, the number of templates created, some useful statistics and a history of the processes executed.
Models
This is where templates are created, designated and configured. You will find all the templates being edited before deploying them.
Deployments
When the model is deployed, it then becomes "Process deployed" and is executable in IteropPlay. You can, from this interface, make a process evolve, stop it, generate the documentation…
Users
Manage the users of your application: create users and designers, define groups and assign users.
Related Lists
Create lists of suppliers, your company's products or even services, and then add links between all this data. This is where you can create dynamic data lists and dependencies between data.
Services
You can connect IteropSuite to other applications in order to automatically perform certain repetitive operations. It is possible here to create services to connect to, for example, an email account or a web service on which automatic tasks will work.
Settings
All the general parameters of the application are here: customize the interface, add your company logo, change the language, create REST accesses…